I love Australia with a passion and have lived here since the age of 18 months.
I was born in a small Croatian village called Spicic Bukovica which is 10 km from the nearest town called Virovitica.
I would like to thank the Croatian community for coming out to support me at the WEC. It was a great pleasure to see you there and especially to come out with the Croatian and Australian flags.
It was also an honour to come out with the Croatian flag to pay respect to the country of my birth and more importantly for the soldiers who fought in the wars to defend our beautifull country, for all the brave people who lost their lives protecting Nasi Zemlja Hrvatska, Ruza Moja.
My fight on the 21st of July 2006 was an extremely satisfying experience. The people of Wollongong and I had a great amount of anticipation leading up to the fight as it has been 18 years since I last fought in my home town of Wollongong.
When I arrived at the W.E.C I was experiencing a lot of emotion and nerves. I knew that a lot of my friends were in the crowd and I wanted to perform well. I wanted the crowd to leave the W.E.C at the end of the night and say they had a fantastic night. When is Big Bob fighting again? Book my seat now!
Talking to many fans after the fight, I believe this was accomplished. The comments that I received from fans were fantastic.
On arrival at the WIN Entertainment Centre I went straight to my dressing room and layed out all of my boxing gear ready to go to WAR!
I went into the main arena and greeted the crowd, shaking hands and personally thanking those that came to support the night of boxing. Without the fans these nights would not be possible. I send my deepest and warmest thanks to each and every one of you for taking the time to attend the night of boxing.
After greeting people in the arena I went back to my dressing room to have my hands wrapped. This is always done in a certain way according to the rules of the boxing commission. The bandages act as a protection to the boxer's hands reducing damage from the impact of punches. It also protects the other boxer from the impact. These bandages take approximately one hour to put on. During his hour, the trainer and boxer to talk of their fight plan. It is also a good time to inspire and motivate to get the fighter into a frame of mind that is totally focused. By this point the fighter is thinking about nothing but his fight.
I visualize a circle outside a circle. The negative things like, what if I loose the fight, the nerves associated with thinking about all the people that are there. I might look stupid. What if I get knocked out? Inside the circle I visualize myself being strong, being fast with my punches, looking great, my fitness holding well and all positive things.
Inside the circle are the positive things I focus on. At times you cant help but momentarily think of those negative things. The second I do, I stop, close my eyes and refocus on the positive things.
I loosen up for 5 minutes, go through thoughts of actually being in the ring then I go out to the arena and feel the atmosphere of the fight night. A fight would be in progress and the crowd is vocal. I can really feel the excitement. My mind and body increase fires up from the adrenalin. I spend about 5 minutes there soaking up the atmosphere and stretching then I make my way back to my dressing room to continue my preparation.
The whole time now I stay in my job, in the circle. I put my socks & boots on. Then I put on my groin and kidney protection belt & spend 5 minutes moving around shadow boxing and feeling really focused, stretch some more then my boxing shorts go on. My trainer then smears my face and parts of my upper torso with vasaline, this helps the punches from my opponent slide more making them less likely to cause a cut to my face. I then shadow box some more and get really fired up. My trainer then puts on the boxing gloves. This is when I really go into a serious mental state of focus.
At this time we get a ten, minute warning from the fight organizers, the mental focus and pump go into extreme overdrive At this time nobody says a thing to me except my trusted trainer. I concentrate on everything he says and put myself in that picture.
The last ten minutes are spent throwing select punchers into hand pads or focus mitts as some people call them. This is only done in ten second bursts then I walk around for thirty seconds, then another ten second burst. This is done for five minutes. I stretch then just before going out I have one last blast of punching the pads but this time with ferocious venom.
The call comes," OK BIG BOB lets go". This is it. My body and mind are in such a state that words can't describe. Walking along the hall to a double door that will be my entrance into the stadium, I stop and wait for the cue to enter. Listening to the noise of the crowd and paying particular attention to the music that first comes on, the cue that tells me my opponent will be making his entrance.
I spoke to the promoter and my song THUNDERSTRUCK, by AC/DC (live version) played for 45 seconds before I entered the arena. I love putting on a spectacular show. When I entered, I did not expect to experience what happened next.
The crowd where all on their feet, cheering me unbelievably loud. It gave me goose bumps. I was pumped. I steeped up into the boxing ring climbed through the ropes and raised my arms in appreciation. I then walked over to my opponent who had his back to me and I stood inches away from him. He didn't know I was there until his trainer nodded at him to turn around. He saw me standing there with a focused angry expression on my face. I looked into his eyes for a second then raised my gloves waist high for him to tap them with his as sign of respect.
I did this to show him I'm ready and pumped and initiated the first impact. I then went back to my corner, focusing while the announcer did his job.
Then DING DING 1st round.
I felt a bit tight during the 1st round but stayed in total control. My opponent Richard Tutaki ( tutaki express) as he always starts off with a full head of steam came forward constantly trying to catch me cold and hopefully land a shot that would unsettle me. I counter punched him and controlled the first round The bell sounded to end the 1st round.
We get sixty seconds between rounds to have a drink, apply vasaline, talk game plan, try to a bit relax and refocus. This feels more like 10 seconds.
Bell sounds starting the 2nd round.
Now I feel loose, my punches crisp and strong. I start taking the Tutaki Express apart and hit him with a good combination of punches He goes down and the crowd cheer loud. Richard gets up. He looks ok but in shock. We resume fighting. I land more clean, crisp punchers and again the express goes down. Now I think it will be over but again he gets up willing to continue. MAN I know he is hurt but his warrior heart forces him up to continue. I go in for the kill and catch him with great shots. He is down again and the referee automatically waves off the fight. Its over and I win by knockout in the 2nd round. The crowd is in fever pitch and roars wild.
The fight was short but exciting to watch and the fans were happy their man was victorious. Chants of BIG BOB were heard. I raised my hand in victory and gave a speech to thank my opponent, trainer, friends and the crowd for their support.
This is event proudly supports the Kidz Wish Foundation.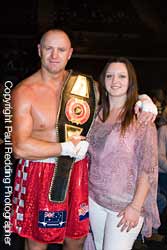 Thanks to Shannan Taylor / Blaster Entertainment / Steve O'Brien and The Kidz Wish Foundation for staging the event.
Opponent: Richard Tutaki
Sex: Male
Nationality: New Zealander
Alias: The Tutaki Express Train
Global ID 116782
Federal ID MO065403
Hometown : Glen Innes, NZ
Rated at Heavyweight
World Rank 326 / 1095
Date of Birth 1978-06-17
Age: 28
Height :6' 3½
Trainer: John Glozier
Manager :John Glozier
W 14 (8 ko's) | L 14 | D 0 | Total 28