The Big Bear Facts
Big Bob Mirovic, The Big Bear. D.O.B. 25th February 1966, World Rank 155/1111, Global I.D. 019192, Reach: 80", Height: 6' 5", Stance: Orthodox, Manager: Angelo Hyder, Trainer: Angelo Hyder.
Won: 30 (), Draw: 2, Lost: 15,Total 47.
I started my boxing career at the ripe age of 22 years of age, my first bout was at Cronulla workers club, I had to catch a bus to my trainers house then drive to Sydney from the Gong. With no previous experience in the boxing world I did not know there were a whole lot of nerves associated with the fight game, all I was interested in was winning my first boxing match as best I could and so begin my new dream in life.
I won this boxing match very convincingly against my Fijian opponent by knockout in the 3rd round and already people started to talk about Bob with enthusiasm later to be known as Big Bob.
My second fight was real mind opener for me as I only trained for a week due to circumstances and I was told that my opponent was to have his 1st professional fight but i was not informed that he had approx. 115 amateur fights which was a wealth of experience. He belted the crap out of me for the 1st 3 rounds but i came back well to win the next 3 rounds and in the process almost knocked him out. i lost a very close decision to a man far more experienced than me. he was the former australian and european heavyweight champion as an amateur.
After this fight my then and 1st trainer Billy Hewitt said that he believed i was destined to become Australian heavyweight champion which i would later fulfill this prophecy which at this time was to complicated to comprehend such an achievement.
After 4 fights with billy i changed trainers to Father Maurrie Crocker a great man who was working for the great man above us all, he was a unique man to have known and trained under, unfortunately our combination only allowed us to share 1 fight together which i won televised live on FOX TV.
From there Father Crocker said that he thought I should train with a friend of his as he thought that where I could go he did not have the sufficient experience to get me there, so i hooked up with Fraser Towell a former boxing champion from south africa, the brother of Vic Towell who famously lost his world title to australian Jimmy Caruthers, our time which i felt was special only lasted 2 fights.
I then went and hooked up with the infamous Cec Waters, there I trained for five years in the mountain of Kulnura on the Central Coast. I won our 1st fight together spectacularly with a 4th round knockout the next fight I won the N.S.W title in a tremendous fight which was voted fight of the year. my 3rd fight I won by knockout which elevated me to the number one contender for the Australian heavyweight title held by Victorian Vince Cervi. I was next to fight him, so I thought, until Joe Bugner who fought legend Muhamad Ali twice and Joe Frazier once, he lost those fights on points with an enormous effort.
Joe Bugner, the cunning man, knew that money made people think differently so he offered the champion much more money than what he would of made fighting me. He chose to fight Bugner and the winner was to fight me. Bugner won!
Bugner then chose to muck us around. Eight months passed with no fights so I had to find a job to support my family much to the disappointment of Cec. As Cec said "A fighter needs all his strength to train NO WORK!" , this started problems between us which led to Cec ending our partnership.
I then began to train with Cec's three sons Dean, Guy and Troy. Then came along my next and current trainer Angelo Hyder, we have been together for around 9-10 years which has been the most extraordinary ride in life, throughout the boxing world we have reached legendary status with our humour and comic adventures in the boxing ring during my fights.
Angelos plan for me was to fight Joe Bugner in our 3rd fight together, which we achieved. The 1st in Melbourne against James Ali (no relation to the famous one), I won this with a devastating knockout in the 4th round, next was James Grima in Melbourne for the O.P.B.F title which I won convincingly only to be robbed.
Never the less, our plan came to be how we envisioned it, our next fight was on the gold coast against Joe Bugner. Prior to this we launched an article in the Australian Boxing magazine (The FIST). I believe this helped our cause as we put enormous pressure on Bugner, he took the bait.
I went to gold coast for the press conference for the Bugner fight 5 weeks prior to the fight and a man told me the only way I could win the fight was to knock Joe out.
The fight took place and the winner was guaranteed to fight Bone Crusher Smith for the W.B.F world heavyweight title.
The fight went ahead and 4000 people packed the stadium to witness a great fight. Everybody felt I won convincingly only again to be robbed. The stadium erupted with disapproval about the decision and a riot broke out. I was interviewed centre ring with cheers, when Bugner was interviewed the stadium erupted with deafening boos, much to the disappointment to Bugner who threw the microphone down in disgust and left the arena. The media said won the fight. This controversy carried on for years to follow.
My next fight was in Queensland for the Australian title which I won. I became the new heavyweight champion of our beloved Australia A dream that came true which started years ago and one that I knew I could achieve.
I later fought for the Commonwealth Heavyweight title which no Australian had won. I was scheduled to fight Danny Williams of England who was rated the 5th best heavyweight in the world, with no chance of beating. But no one knew how prepared I was for this contest. The fight took place in London, live on U.K Television and I fought the fight of my life. I won the 1st three rounds clearly and with 20 seconds to go, smashed Danny with a great left hook which shook the champion to the rafters. He held on for dear life. The bell rang to end the round. Very shaken he went back to his corner. He came out for the 4th round and intentionally hit me with a wicked low blow in the eggs. The fight was momentarily paused and the ref. did not do his job. With my private parts feeling like they were coming through my mouth. The fight continued and I had not recovered. Danny took full advantage of my discomfort and pounded away at me. I was helpless so the ref. stopped the fight, much to the disapproval of the crowd. Danny won the fight, he then went on in his next fight to knock out Iron Mike Tyson.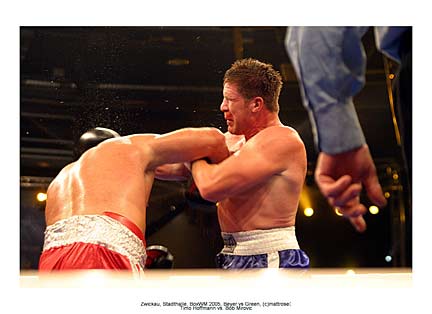 I won two more fights by knockout in Australia, then with six days notice went to Germany to fight on the Danny Green World title fight against Macus Beyer. First I was told I would fight 8th ranked heavyweight Timo Hoffman. Tim fought the great Vitali Klitchko who he lost by a close decision to the new heavyweight champion of the world.
Four hours prior to leaving for Germany Angelo rang me from Germany to tell me Timo had pulled out and they had a replacement Nikolai Valuev the 7 foot 2 inch tall beast from East Russia. It was the last thing i wanted to hear but I took on the challenge. The fight took place in Nurburgring and I did Australia proud. I was the 1st man to stand toe to toe with the giant from Russia and many thought I won this close fight, It went his way, but I received much admoration from the boxing public.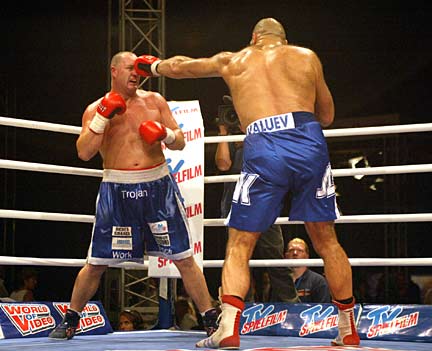 I won two more fights in Australia by knockout then again travelled to London England to contest for the Commonwealth title. I was better prepared only to find myself with a bad case of food poisoning. After I spent some time at the sauner and heated pool, I was left with a massive boil and blood poisoning on my back. Angelo said if the officials saw this they would call off the fight, so he spent almost two hours trying to squeeze out the infection. The fight went ahead. I felt very sick but battled on and after for furious rounds felt terrible and chose to end the fight being concerned about my health. I to found out later the Englishman's trainer was about to stop the fight as his fighter Matt Skelton was exhausted and hurt badly. The fight was voted one of the best fights seen in England.
I won a few more fights then travelled to Phoenix Arizona to train with the legendary Iron Mike Tyson for 6 weeks which was an incredible experience, especially after I was scheduled to fight him. The Team Tyson chose that I was to dangerous to contest after they watched my last fight which was held in Zwickau Germany on the undercard of Danny Greens retrun with Marcus Beyer against Timo Hoffman. All who witnessed thought I had won with 6000 fans showing their disapproval by giving me a standing ovation. The media response was overwhelming towards me. This had never been witnessed before in boxing.
The six week stint in America with Mike Tyson which was an experience beyond words. To spend time training with the man regarded as one of not the most dominant heavyweight in boxing history, to hang out with Iron Mike, go to dinner and night clubs was something that I cherish for life regardless what people think. Mike always showed me the utmost repect and courtesy and that is all I can go by. Mike always was polite to all and was a true gentleman at all times, so I can only say the man was always a true gentleman.
I was then due to fight Iron Mike in september of that year. Mike quit in the process and my fight fell through again.
After Arizona I travelled back to Queensland to contest for the W.B.F heavyweight title. Spending six weeks in + 40 degree celsius I came back to the Australian winter and caught a severe dose of the flew. I soldiered on as sick as I was. I got a call from my mother on the day of the fight and she encouraged me by saying that she is fighting for her life with breast cancer and i must fight as hard to win this big fight, her inspiration drove me strongly, the fight was said to be one of the best fights seen on Australian soil. My adversary Rob Calloway won a very close fight. I not only had to deal with a bad case of the flu prior to the match but also sustained a broken jaw in the 3rd round and managed to continue to the end.
I waited six months for my broken jaw to heal then fought on the Jeff Fenech Fight Night to win by knockout in the 2nd round.
I was about to travell to Tokyo Japan to contest for the O.P.B.F heavyweight title held by Peter Okello from Uganda Africa who was managed by the Japanese for the last 7 years.
As I was checking in for my flight to Japan my mobile phone rang, it was my brother who I had not seen for 24 years. He was the one who told me that my mother had just passed away with her cancer. As you can imagine my heart went through my throat. My trainer and two friends who were with me thought that I should not go to Japan to fight as this was to emotional to deal with. I told them it was my loving dear mothers wish to succeed in this endevour so I went to Tokyo in front of a live television audience and contested a fight that was gruelling behond belief. Two big men fighting toe to toe with no relief, both men knew they were in a two man war and the crowd were electrified. Once again the other man won on a split points decision. This fight was very important as Mr Okello was ranked 14 in the world and a win by Big Bob would of put him in a position to be eligeble to contest for the biggest prize in sport, the coveted world heavyweight title.
15 Apr 2006 Peter Okhello (Ishimaru) 252.75 Korakuen Hall, Tokyo, Japan L UPTS 12
OPBF Title
24 Jun 2005 Rob Calloway 209.5 Royal Pines Resort, Ashmore, Australia L UPTS 12
Vacant WBF Title
Vacant PABA Title
12 Mar 2005 Timo Hoffmann Stadthalle, Zwickau, Germany L UPTS 12 Sauerland Event
IBF Intercontinental Title
17 Dec 2004 Colin Wilson 251.25 Royal Pines Resort, Ashmore, Australia W UPTS 10
04 Dec 2004 Hiriwa Te Rangi 251 Sky City Convention centre, Auckland, New Zealand W KO 4
05 Jun 2004 Matt Skelton York Hall, Bethnal Green, England L RTD 4
Commonwealth (British Empire) Title
07 May 2004 Mosese Kavika 232 Club Nova, Newcastle, Australia W TKO 1
WBF International Title
16 Apr 2004 Paul Robinson 244.25 Dandenong Basketball Stadium, Melbourne, Australia W TKO 4
21 Mar 2004 Silovate Rasaku 221 Challenge Stadium, Perth, Australia W KO 3
11 Jul 2003 Danny Buzza 206.75 Central Coast League Club, Gosford, Australia W KO 4
27 Jun 2003 Mitchell O'Hello 234.5 Metro City Nightclub, Northbridge, Australia W KO 3
16 May 2003 Nikolai Valuev 321.25 Nurburgring Racetrack, Nurburg, Germany
26 Apr 2003 Danny Williams Fountain Leisure Centre, Brentford, England L RSF 4
Commonwealth (British Empire) Title
07 Mar 2003 Auckland Auimatagi 263 Central Coast League Club, Gosford, Australia W TKO 5
Australian Title
07 Feb 2003 Phil Gregory 221 Southport Sharks, Southport, Australia W TKO 3
Australian Title
15 Nov 2002 Auckland Auimatagi 261 Club Nova, Newcastle, Australia W TKO 3
Australian Title
18 Sep 2002 Roger Izonritei 224 Horden Pavilion, Sydney, Australia W KO 5
Australian Title
10 May 2002 Colin Wilson 243.75 Central Coast League Club, Gosford, Australia W SPTS 12
Australian Title
01 Dec 2001 Peter Okello TBC, Nagoya, Japan L TKO 5
OPBF Title
08 Jul 2001 Nathan Briggs 225.25 Conrad Jupiters Casino, Broadbeach, Australia W KO 6
Australian Title
29 Sep 2000 Peau Lemauga TBC, Noumea, New Caledonia W KO 3 details
25 Aug 2000 Clay Auimatagi 280 Bankstown P.C.Y.C, Sydney, Australia W PTS 4
28 Jul 1999 Aisea Nama Croatian Club, Henderson, Auckland, New Zealand L TKO 5